About the Conference
The ANZ Smart Farms and Agtech Forum: Future of Farming with Precision Agriculture, Big Data and Robotics provides an invaluable platform for agriculture industry experts to address Smart Farming challenges, share knowledge, inspire new ideas and forge strategic partnerships.
Rising production costs are placing increasing pressures on Australian agribusinesses to more efficiently utilize their resources and increase output. To meet export growth targets and maintain domestic self-sufficiency, Australian farmers must improve their productivity and competitiveness in the global market. The mounting challenges in agriculture have called for the need to adopt smarter and innovative technologies to raise productivity and better manage natural resources.
Discover some of the best Smart Farming technologies and acquire more efficient farming operations and management tools that will future-proof your farms and boost efficiency, productivity and yield at this conference. It is also an excellent networking opportunity not to be missed!
Mark 3 – 5 December 2018 in your calendar and book your seat now! We look forward to welcoming you this December!
10 Compelling Reasons to Attend This Conference
Be part of the exclusive gathering of business leaders, innovators, entrepreneurs, CEOs, investors and thinkers for meaningful exchanges to catalyze Smart Farming developments
Stay ahead of the technology curve and

discover what's truly cutting-edge within the Smart Farming sphere

to future-proof your farms
Embrace new precision agriculture technologies intelligently to enhance efficiency and yield
Acquire actionable insights, proven solutions and effective strategies to accelerate your Smart Farming initiatives

Engage and network with some of most innovative minds

at the forefront of the Smart Farming community to build valuable partnerships
Exclusive international and local case studies shared by prominent speakers who have played imperative roles in realizing Smart Farming initiatives
360-degree Approach in Smart Farming: Evaluate Smart Farming initiatives in a holistic approach from policies, infrastructure planning, environment sustainability, precision agriculture, IoT, robotics, automation, AI, data privacy and security
Invaluable takeaways from best practices, market-leading and award-winning case studies and practical insights on how Smart Farming can be implemented in a cost-effective manner to drive better efficiency and yield
Interactive, outcomes-focused "How To" roundtable discussions, panels, fireside chats to get all pressing questions answered and to assist delegates to successfully map out Smart Farming transformation journey for various sector specific crop types
An exclusive platform for industry experts to address Smart Farming challenges, share integrated technological solutions and forge new valuable partnerships
The Conference At A Glance
Pre-Conference: 3 December 2018
Australia Top Smart Farming Innovations Site Tour
Main Conference (Day 1): 4 December 2018
Transforming agriculture using IoT and predictive analytics in boosting efficiency and yield
Precision agriculture raises profitability by maximizing productivity and minimizing cost and environmental damage
Award-winning case studies on smart wireless sensors and driverless tractors
Robotic vision, Artificial Intelligence and weed-killing microwaves that redefine the future of Australian farming landscape
Insights from roundtable crop-specific Smart Farming case studies
Main Conference (Day 2): 5 December 2018
Game-changer: Innovative AI climate and rainfall forecasting technology employs big data to prepare farmers for drought season
Exemplary Case Study: Australia's largest co-operative and a grain exporter, CBH Group, successfully employs award-winning AgriDigital's Blockchain to eliminate counterparty risk and track provenance
Unlocking sustainability efforts to promote long term fertility and productivity of soil at economically viable levels
Bridging farmers' skills gap with Virtual Reality and Augmented Reality
Success case studies on practical smart irrigation techniques and The Yield app
Pre-Conference Site Tour
3 December 2018 | 9:00am – 5:00pm
Australia Top Smart Farming Innovations Site Tour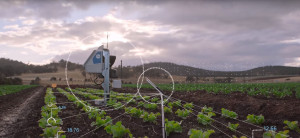 IoT, Environmental Sensors and Precision Agriculture
Hawkesbury campus, Western Sydney University

An exciting Internet of Things (IoT) solution is being implemented on Western Sydney University's Hawkesbury campus to assist management of the irrigation of fodder crops with recycled water, and demonstrate precision agriculture for Sustainable Agriculture and Food Security students within the School of Science and Health. The Yield is a system of microclimate, soil and environmental sensors connected by 6LoWPAN communications across its Farm Area Network through a gateway to a cloud-based IoT platform. Microclimate meteorological and growing condition data and predictions are developed through an AI learning system and accessible through phone and tablet apps. This data and predictions will be used by the Farm Production Manager for scheduling irrigation for water use efficiency and optimal production.