Sponsors & Media
Supporting Partner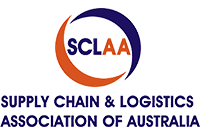 The Supply Chain & Logistics Association of Australia (SCLAA) is Australia's largest Association for Supply Chain and Logistics professionals and practitioners working in SME's through to large Corporates.  Driving a competitive advantage over Australia's Supply Chain & Logistics.
Of the 2.1 million Companies in Australia, almost all have supply chain and logistics functions.   We directly run the most supply chain and logistics events across Australia.  Additionally, we co-organise joint events with other respected Industry Partners and support selected Industry Conferences.
The SCLAA is a not-for-profit, and member-based organisation, run by volunteers and at our very core is our mission to serve and advance the interests of Supply Chain and Logistics professionals and practitioners in Australia.
Advertiser

Established in 1989, The Computer Department (TCD) has been instrumental in the growth of many Logistic Operations in Australia. We have been actively supporting the operations of Down Under Logistic Companies with superior data processing and workflow management.
 We are 100% owned and operated in Australia, providing comprehensive managed services to enterprise level companies in a variety of industries. We design and implement technology solutions for our clients that drive competitive advantage and manage critical systems to improve business performance.
 TCD is proud to introduce Boon Software to the OZ logistics community. TCD is the exclusive distributor of Boon's flagship product, Symphony Logistics Suite. Boon Software is a Leading Asean Logistics & Supply Chain Consulting Company, established in 1993, headquartered in Singapore with branch offices in Jakarta and Batam, Indonesia.
Find out more at: http://ww2.tcd.com.au/about/
How to Sponsor
Capitalize on  2nd Supply Chain Logistics Digital Transformation and Disruptive Innovation Forum
Do you have technological solutions to help enhance supply chain, trade and logistics? Looking for the ideal platform to gain market exposure and raise your profile?
Leverage our limited sponsorship packages to strength and confirm your market position through consistent and continual branding awareness and take advantage of the plethora of opportunities to interact with high level decision makers.
Your Partnership with us will provide you with:
Unparalleled industry exposure
Leads generation and set-up of meetings with key decision makers
Positioning your company as a thought-leader
Reaffirming your position in the industry
Please contact Emma at +65 6716 9961 or email [email protected] to discuss potential sponsorship opportunities or to custom make your own package.
---
Benefit as Media Partner or Supporting Organization at the
2nd Supply Chain Logistics Digital Transformation and Disruptive Innovation Forum
Enhance your corporate profile and visibility within your industry – Your company's logo will be emblazoned on our brochures and distributed to AEC leaders across the Asia Pacific region.
Affiliation with internationally recognized commercial event organizer
Clariden Global events are widely known and trusted internationally for giving best value to senior industry executives. We partner with selected media and supporting organizations, capable of delivering the highest caliber of expert knowledge and key industry insights to the target market.
If you meet the criteria mentioned above and would like to explore the opportunity to partner with us for the 2nd Supply Chain Logistics Digital Transformation and Disruptive Innovation Forum, please contact Rosanna at +61 3 9909 7310 or email [email protected].