| | | | |
| --- | --- | --- | --- |
| | | | |
| | Bringing Indonesia's Miners & Investors Together | Following the success of Indonesia Mining 2013, Clariden Global is pleased to present the 3rd Annual Indonesia Mining 2014 Conference as a key platform for mining stakeholders to share practical & frank discussions on managing regulatory uncertainties & realizing strategic commercial, financing & operational opportunities. | |
| | | | |
A Bigger and more Dynamic Event in 2014
Meet Key Coal, Mining and Mineral Buyers/Traders from China, India and Japan
Receive Clarity and Insights from Indonesia's Mining Regulatory Flux
Get more value by attending Smelter-focus stream on Day 2 (18 Feb 2014)
Meet Top Financiers from China and Indonesia other major investors to finance major smelter projects
Network at the Pre-Conference Indonesia Mining Golf Game
Directorate General of Mineral & Coal, BKPM & PLN confirm participation at 3rd Annual Indonesia Mining 2014 this February 2014 at the Conrad Bali, Indonesia!
This year, expect a bigger and more dynamic event as Clariden Global will be inviting top Coal and Non-Coal Buyers from China, India and North Asia, as well as key investors financing smelters and mining projects to attend this conference. You will also meet key Indonesian regulators and also receive a complimentary pass to the Smelter-focused stream taking place side by side all at the 3rd Annual Indonesia Mining Conference!
Last few days to confirm your place at Indonesia Mining Golf Game on 16th February 2014.
This golf day will be an ideal place to enjoy a game while meeting other delegates!
Featured Speakers
Biao Chen
Managing Partner
Jinjiang Mining Fund
Satnam Singh
Associate Director – Energy &
Natural Resources Practice
CRISIL Infrastructure Advisory
Pan Guo Cheng
President & CEO
China Hanking Holdings
Tony Wenas
Executive General Manager – Indonesia,
Intrepid Mines
Vice Chairman, Indonesia Mining
Association (IMA-API)
Julian Ford
Managing Director
Sumatra Copper & Gold plc
Micheal Kiernan
President Director
PT Asia Mangan Grup
Henry Fahman
Chairman & CEO
PHI Group, Inc
Dr Gatut S Adisoman
Deputy Chairman – International Affairs
Indonesian Coal Mining Association (APBI-ICMA)
2014 Stellar Speakers Lineup
Mining & Exploration Companies
Dr S.Gatut Adisoma, Deputy Chairman – International Affairs, Indonesia Coal Mining Association (APBI-ICMA)
Tony Wenas, Executive General Manager - Indonesia, Intrepid Mines; Vice Chairman, Indonesia Mining Association (IMA)
Justin Werner, Director, Nickel Mines Limited
Pan Guocheng, President & CEO, China Hanking Holdings
Julian Ford, Managing Director, Sumatra Copper & Gold plc
Michael Kiernan, President Director, PT Asia Mangan Grup
Mansur Geiger, Vice President – Exploration, Kalimantan Gold Corporation
Dr Jeffrey Malaihollo, Managing Director, Arc Exploration Limited
Arie P Ariotedjo, CEO/Managing Director, PT Medco Energi Mining Internasional
Ken Allan, Finance Director, PT Borneo Lumbung Energi & Metal, Tbk
Malcolm G Baillie, Chairman, Indonesian Forum for Mineral Exploration and Development Association (EMD)
Peter Albert, Chief Executive Officer, G-Resources
Djaja M. Tambunan, Finance Director, PT ANTAM (Persero) Tbk
Ben Lawson, Chief Development Officer, PT Apple Coal
An Sudarno, Senior GM of Smelter Project, PT Harita Group
Georges Nikly, General Manager - Plant Operation & Maintenance, PT Weda Bay Nickel
Tom Robinson, Sr. Project Leader - Business Development, Teck Resources Ltd
Financing & Investment Companies
Hongyu Cai, Managing Director – Research Department China International Capital Corporation (CICC)
Biao Chen, Managing Partner, Jinjiang Mining Fund
Ryan Chung, Executive Director, China-ASEAN Fund
Nick Halkas, Head of Mining & Metals, Asia, Australia and New Zealand Banking Group Ltd
Dwi Wahyudi, Managing Director I, Indonesia Eximbank
Henry Fahman, Chairman & CEO, PHI Group, Inc.
James Stewart, Executive Director – Equity Research, UBS
Regulatory & Government Agencies
Dr. Ir. R. Sukhyar, Director General of Mineral and Coal, Ministry of Energy and Mineral Resources of The Republic of Indonesia
Azhar Lubis, Deputy Chairman of Investment Monitoring and Implementation, Indonesia Investment Coordinating Board (BKPM)
Chairani Rachmatullah, Senior Manager – Primary Energy Planning and Evaluation, PT PLN (Persero)
Mining Industry Advisors
David Rimbo, Managing Director - Transaction Advisory Services, Ernst & Young Indonesia
Alberto Migliucci, CEO & Founder, Petra Commodities
Alastair McIntyre, Senior Managing Director - Asia , Behre Dolbear Asia
Rick Beckmann, Senior Foreign Legal Counsel, Susandarini and Partners in association with Norton Rose Fulbright Australia
Darryl Harris, Head of Ferrous Solutions, Outotec South East Asia Pacific
Michael Spence, Director, Partners In Performance
Satnam Singh, Associate Director – Energy & Natural Resources Practice, CRISIL Infrastructure Advisory
Kresna Panggabean, Senior Associate, Susandarini and Partners in association with Norton Rose Fulbright Australia
300+ Industry Participants since the inaugural edition in 2012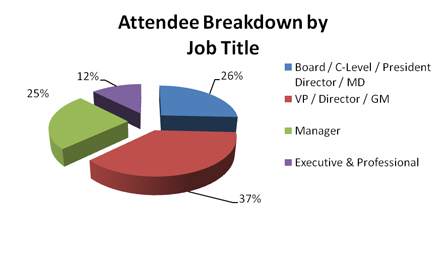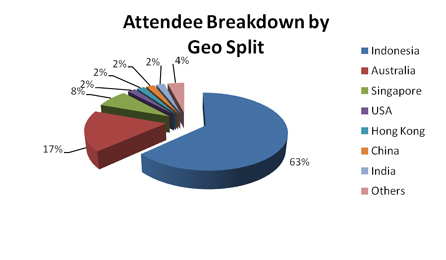 Conference Highlights:

2014 CONFERENCE HIGHLIGHTS

Meet the Largest Coal, Mining and Mineral Buyers from China, India, Japan to Structure Deals in this Conference
Meet Top Financiers from China and Indonesia such as China ASEAN Investment Cooperation Fund and other major investors to finance major smelter projects
Receive Clarity and Insights from Indonesia's Mining Regulatory Flux
Special Stream Focus on Indonesia's Onshore Processing & Smelting Industry
Network with Leading Industry Players at the Pre-Conference Indonesia Mining Golf Game
Establish Valuable Business Contacts at Clariden's Networking Cocktail Reception

Who You Will Meet:

Who will you meet this February

Mining & Exploration Companies (Majors, Juniors)
Investment & Commercial Bankers
Asset & Investment Management
Private Equity & Venture Capitalist
Government / Regulators
Mining Contractors
Coal & non Coal Buyers - Power, Cement, Steel, Other End Users
Legal Firms
Risk, Tax and Mining Industry Consultants
Vendors & Solution Providers
Navigation
Download Post Event Report:
Download Sponsorship Prospectus:
Sponsored By
Supporting Partners