Sponsors & Media
Supporting Partner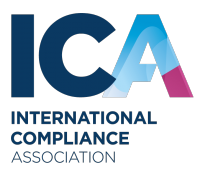 The International Compliance Association (ICA) is a professional membership and awarding body
open to compliance professionals at all stages of their career. As part of our ongoing commitment to
setting the standard, we provide a wealth of knowledge, tools, resources and practical support.
We are the leading provider of professional, certificated qualifications in anti-money laundering;
governance, risk and compliance and financial crime prevention. An internationally recognised
organisation, our qualifications are awarded in association with Alliance Manchester Business School,
the University of Manchester.
Our global community has members across 130 countries. Being a member demonstrates a
commitment to the highest standards of practice and conduct, enhances your professional reputation
and employability and significantly protects and improves the performance of your organisation.
Recognition. Community. Knowledge. The benchmark of excellence.
Find out more about ICA Qualifications: https://www.int-comp.org/qualifications/all-
certificates-and-diplomas/
Find out more about ICA Membership: https://www.int-comp.org/membership/why-
become-an-ica-member/
Supporting Partner

PARIMA is the Pan-Asia Risk and Insurance Management Association. It is a not-for-profit professional association dedicated to developing risk management as a profession and providing a platform for risk & insurance managers to connect. We aim to strengthen and enhance the culture of risk management by creating opportunities for education and dialogue within the community. It currently has more than 1,500 members representing more than 750 companies across the Asia-Pacific region. For more information on PARIMA and its activities, please visit http://parima.org/ or contact [email protected].
How to Sponsor
Capitalize on

Applying AI and Analytics For Better Risk, Fraud, Audit, Legal and Compliance Management
Do you have technological solutions to help enhance risk management framework, fraud detection, compliance and audit management? Looking for the ideal platform to gain market exposure and raise your profile?
Leverage our limited sponsorship packages to strength and confirm your market position through consistent and continual branding awareness and take advantage of the plethora of opportunities to interact with high level decision makers.
Your Partnership with us will provide you with:
Unparalleled industry exposure
Leads generation and set-up of meetings with key decision makers
Positioning your company as a thought-leader
Reaffirming your position in the industry
Please contact Joyce at +65 6716 9996 or email [email protected] to discuss potential sponsorship opportunities or to custom make your own package.
---
Benefit as Media Partner or Supporting Organization at the

 Applying AI and Analytics For Better Risk, Fraud, Audit, Legal and Compliance Management
Enhance your corporate profile and visibility within your industry – Your company's logo will be emblazoned on our brochures and distributed to AEC leaders across the Asia Pacific region.
Affiliation with internationally recognized commercial event organizer
Clariden Global events are widely known and trusted internationally for giving best value to senior industry executives. We partner with selected media and supporting organizations, capable of delivering the highest caliber of expert knowledge and key industry insights to the target market.
If you meet the criteria mentioned above and would like to explore the opportunity to partner with us for the Applying AI and Analytics For Better Risk, Fraud, Audit, Legal and Compliance Management, please contact Rosanna at +65 6716 9968 or email [email protected].