About the Summit
Building on the tremendous success of the 2018 Disruptive Innovation Forums in Australia and Singapore, Clariden Global is delighted to bring to market, the 2nd World Disruptive Innovation Summit in Singapore. Develop on your organization's capabilities, and gain valuable insights about cutting-edge techniques and solutions in the market to help your organization innovate and re-invent itself in the disruptive era.
This event is a conglomeration of more than 100 top-level delegates coming from government authorities, regulators and key players across various B2B sectors (healthcare, energy & utilities, banking & finance, technology, transport, telecommunications).
Create new business opportunities across a business community and work together with the government to better regulate the digital economy whilst encouraging and fostering innovation across industries.
Mark 11 – 13 February 2019 in your calendar and book your seat now! We look forward to welcoming you this coming February!
10 Compelling Reasons to Attend This Summit
Discover the futuristic applications of disruptive innovations and strengthen your business strategy with customer
Uncover the latest insights and trends from established market leaders that have multiplied growth and stayed ahead of the game with innovation and transformation
Develop the capabilities to build sustainable structure and culture for organizational innovation and transformation
Explore future jobs opportunities in this amazing race between human and robots
Create new business opportunities, and discuss how the business community and the government could work together to better regulate the digital economy whilst encouraging innovation across industries
Stay up-to-date with agile business structure and development effectiveness
Navigate through the new ecosystems and examine the implications they have on your business environment
Analyze how the development of controversial disruptive innovations such as VR, AI, IoT, computer vision, autonomous vehicles will impact employment, the economy and the society
Explore the opportunities, and analyze the potential risks and pitfalls of integrating innovation and emerging technologies into your existing business models
Respond to the changing nature of work by equipping the nation with skills relevant to the 2030
The Summit at a Glance
Pre-Summit Activities: 11 February 2019
Disruptive Innovations Site Tours
Main Summit (Day 1): 12 February 2019
How Elon Musk's Hyperloop Will Disrupt the Transportation Industry
AI 2020: A Health Disruptor
How Microsoft, a Company with 98,000 Employees, Is Partnering with Companies to Innovate Like a Startup

5 Ways to Innovate and Grow Without Disrupting Anyone

Future Disruptive Technologies that Could Be Major in Next 10 Years
How PAL-V Commercializes the First Flying Car in the Air and on the Road

How to Create a Culture and Structure for Disruptive Innovation
Main Summit (Day 2): 13 February 2019
Advanced Analytics & AI in the New Infrastructure Management Era
Unlocking New Todays With AI
How Technology Is Disrupting Singapore's Law Firm
Digital Disruption in Tertiary Education
The Future Of Smart Healthcare
How Will Our Children Compete in a World Where Artificial Intelligence Is Fast Becoming Their Everyday Reality?
How AI, Deep Learning and Superintelligence Will Challenge the Financial Industry

Reshaping the Future of Businesses in the New Digital Age
The Future of Education
Reimagine the Future of Productivity Through Digital Enterprise
Exclusive Pre-Summit Activities
11 February 2019

10:30am – 11:30am:
DISRUPTIVE INNOVATIONS SITE TOUR I
Visa Innovation Centre Singapore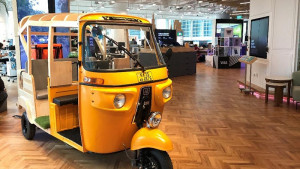 Disruption takes many forms. It doesn't have to be flying cars, or gene therapy, or robots – disruption can improve our quality of life at even the most humble and everyday levels. How we pay for goods and services, for example. Join us at Visa's Innovation Centre in Singapore for an exclusive look into how the payments giant is redefining the future of commerce. You will learn about new digital payments experiences, the role artificial intelligence will play (and already plays) in our daily lives, take a ride in a connected Thai rickshaw where tap-and-go has replaced paper money, and more.
---
2:00pm – 4:00pm:
DISRUPTIVE INNOVATIONS SITE TOUR II
Advanced Robotics Centre, National University of Singapore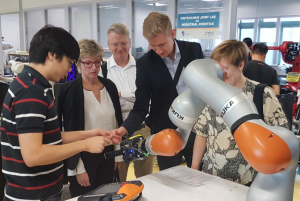 The field of robotics is leaping forward year after year, and remains a prime source of disruption in industries far and wide – immensely boosting productivity, minimizing risk and cutting costs, among other benefits. Join us for a tour of the labs at the National University of Singapore's Advanced Robotics Center (ARC), where you will witness demonstrations of this groundbreaking technology in the form of human-robot interaction, industrial robotics and soft robotics. You will discover how the practical deployment of robots transforms businesses and processes, and get a glimpse into the possibilities the future holds for this exciting and highly relevant field.