Forum Highlights
Smart Cities Urban IoT & Innovations Showcase
Join us at the exciting Smart Cities Urban IoT & Innovations Showcase and Smart Cities Pavilion Showcase to re-imagine the smart cities of the future! Conference delegates will be given complimentary pass to tour and network at the showcase. Selected industry stakeholders will be offered exclusive complimentary pass to attend the event.
The Smart Cities Urban IoT & Innovations Showcase will highlight how, through the lens of some of the most progressive and exciting IoT programmes developed for the urban environment, intelligent technologies and applications can benefit citizens, businesses, policy-makers and planners. This Showcase will incorporate all the key technological, security, operational, commercial and regulatory considerations to enable Smart Cities to work.
Key Themes Include: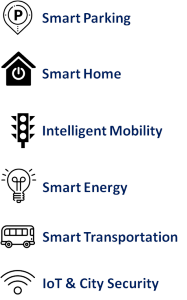 Smart Cities Pavilion Showcase
Another unique highlight of 2nd edition of Australia Smart Cities and Infrastructure Forum the first-of-its-kind Smart Cities Pavilion, a dynamic exhibition showcase that provides an unprecedented stage for leading city councils to share smart city insights, experience, progress and achievements.
At the Smart Cities Pavilion, keep up with the latest smart cities development in Australia. Network and interact with key city councils and understand how their leadership and innovations have given them an edge in leading Australia smart cities vision.
Clariden Global is pleased to offer a limited number of complimentary exhibit stands for cities to demonstrate their technology projects or initiatives to the smart city community convening at 2nd Australia Smart Cities and Infrastructure Forum. This offer is extended on a first-come basis to the first 5 qualified smart cities until 2 August 2017. Submit your registration here.
Agenda At A Glance
DAY 1: WEDNESDAY, 15 NOVEMBER 2017
Smart Cities Urban IoT & Innovations Showcase

Key Technologies Shaping Smart Cities Landscape
Scaling Smart Cities While Maintaining Interoperability and Reliability of the Connected Infrastructure
Fostering a Culture of City Data to Drive Smart City Development: Open Data, Big Data and Smart Analytics
Urban IoT & Innovations Track: Smart Parking / Smart Lighting, Smart Home, Intelligent Mobility, Smart Transportation, Smart Energy, IoT and City Security

Smart Cities Pavilion Showcase

Experience the dynamic exhibition that put leading city councils on unprecedented stage to share smart city insights, experience, progress and achievements

Workshop A: Employing Data Analytics in Smart Cities
Workshop B: Risk Management in Cyber Security
DAY 2: THURSDAY, 16 NOVEMBER 2017
Australia Smart Cities – New Initiatives and Collaborations
Smart Cities Implementation Case Studies
DAY 3: FRIDAY, 17 NOVEMBER 2017
Smart Cities of the Future
Intelligent Mobility and Infrastructure Development
City Security in Smart Cities