Conference Highlights
Why Join Us at This Conference
10 REASONS TO JOIN US IN APRIL:
A convenient, strategic platform to meet with leading Mining companies, MET providers, Mine Tech pioneers and IoT leaders
Discover new mining digitization trends and mining tech adoption opportunities for the recovering mining sector
Analyse the future of Manufacturing, Equipment, Technology and Service Companies (METS) and how this sector will drive innovation and new tech investments
Learn the best practices and case studies of leading mining companies which had pioneered mining digitization
Understand the impact of disruptive innovation through AI, IoT, Robotics, Autonomous Vehicles, Drones, and how to customize their adoption to your specific mining mineral
Evaluate risk and returns in investing in new disruptive mining technologies, ascertain possible ROI for your company
Explore new project opportunities for the adoption and application of new mining technologies
Opportunities for mature miners to upskill themselves with the knowledge of new mining IoT tech; at the same time, championing diversity and inclusion opportunities for all in Mining Tech
Deep dive into the process of de-minifying humans from the mines and the challenges faced by companies as they reshape their organizations
Mining tech companies, start-ups and unicorns will display and discuss current and up-and-coming projects & tech offerings which can drive the mining service arena to new heights
Hot Topics to be Discussed
DAY 1: WEDNESDAY, 10 APRIL 2019
Keynote: Intelligent Mines – Building a Fully Autonomous Mine From Pit to Port
How Anglo American Realizes Major Benefits in Automation: From Autonomous Haulage to Driverless Trains
Integrating IoTs with Miners to Track Efficiencies, Output and Productivity
How Big Data & Cloud for Mining & Metallurgical Operations Enable Intelligent Mining
How Drones Are Changing the Art of Mineral Surveillance, Equipment Maintenance, Operations Monitoring and Site Mapping
Mining Chief Tech Officer Panel Discussion
DAY 2: THURSDAY, 11 APRIL 2019
Improving Mining Asset Performance with Predictive Maintenance and Analytics
Gold Mine IIoT Deployment Strategies. Why and How Deployments Succeed with Case studies
Artificial Intelligence in Mining and Metallurgical Operations, with Case Studies
Safety Regulation in the Autonomous Mines of Western Australia
How IoT is Revolutionizing Workplace Safety
SITE TOUR: FRIDAY, 12 APRIL 2019
Digital Mining Automation Equipment Site Tour
Exciting Site Tour on 12 April 2019
Digital Mining Automation Equipment Site Tour
Morning
With rapid transformations to drone technology, the adoption and expansion of drone usage is increasingly cutting across industries. With these advances come challenges including how to conduct operations within Civil Aviation Safety Authority regulations, and manage various privacy and security issues.
Clariden Global have partnered with Global Drone Solutions to bring you this workshop, to learn about the latest industry advances in drone technology and hear from industry experts on how they utilise drones in their business. The workshop includes drone demonstration and attendees will also be given the opportunity to view various different drone platforms.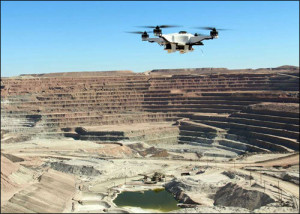 Afternoon
Data, technology, and new ways to use both are increasingly transforming the mining sector worldwide. From drones to automation to data collection and analytics and more, miners now have the cutting edge of science to help them slash down the inefficiencies and hazards that have long plagued mining operations. See it for yourself on a tour of Curtin University's HIVE (Hub for Immersive Visualisation and E-research), an advanced facility dedicated to immersive data visualization and simulation. You will be treated to virtual reality tours of some Western Australian mining sites that are making strides towards digitization and automation, as well as get a glimpse inside the Pawsey Supercomputer Center, one of only two of its kind in Australia.