Sponsors & Media
Media Partner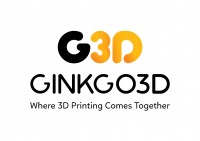 At Ginkgo3D, we want to solve the biggest problem in 3D printing. No one truly understands. They either know what it is and what it does, or they don't. They know how to use it, but they are not utilising it.
Our mission at Ginkgo3D is to bridge this gap and make 3D printing accessible to all. We want to make it easier to turn your ideas into reality. You may not know it, but you will use it.
Ginkgo3D is where 3D Printing comes together.
Visit: www.ginkgo3d.com
Media Partner

Robotics and Automation News covers the robotics and automation industries around the world. We publish this website, a monthly magazine and a weekly newsletter, as well as various industry and country briefings and books.
Both the website and publications aim to summarise some of the more interesting developments in the two sectors of robotics and automation, which are directly linked, and often one and the same.
How to Sponsor
CAPITALIZE ON THE 2nd SMART MANUFACTURING AND INDUSTRY 4.0 FORUM!
Do you have solutions to assist and contribute to the overall improvement of the manufacturing industry? Looking for the ideal platform to raise your profile and to increase your ROI?
Leverage on our limited sponsorship packages to strengthen and confirm your market position through consistent and continual branding awareness and take advantage of the plethora of opportunities with high level decision makers.
Your Partnership with us will provide you with:
Unparalleled industry exposure
Leads generation and set-up of meetings with key decision makers
Positioning your company as a thought-leader
Reaffirming your position in the industry
Please contact Audrey at +65 6716 9986 or email audrey@claridenglobal.org to discuss potential sponsorship opportunities or to custom make your own package.
---
Benefits as Media Partner or Supporting Organization at the 2nd Smart Manufacturing and Industry 4.0 Forum!
Enhance your corporate profile and visibility within your industry – Your company's logo will be emblazoned on our brochures and disseminated to key healthcare decision makers in Asia
Affiliation with an internationally recognized commercial event organizer
Clariden Global events are widely known and trusted throughout the world for giving best value to senior industry executives. We partner with selected media and supporting organizations, capable of delivering the highest caliber of expert knowledge and key industry insights to the target market.
If you meet the criteria mentioned above and would like to explore the opportunity to partner with us for the 2nd Smart Manufacturing and Industry 4.0 Forum, please contact Jane at +65 6899 5030 or email jane.thomson@claridenglobal.org.