About the Conference
The conference, the 2nd in running, very commercial focused, seeks to showcase how Machine Learning and Deep Learning applications can be used to build competitive advantage, enhance productivity, drive new business opportunities, increase revenue. It is expected to attract many AI professionals, investors, robotics, drones, IoT, driveless and data science experts from this region, and beyond, for a high profile gathering of refreshing, new thought leadership, collaborative discussion, new breakthroughs and sharing of successful AI user cases.
While keeping up with the exponential growth of AI, many corporations and government organisations face challenges and roadblocks before and during implementation of their AI programs. At the conference, we will share with you many successful case studies to showcase how adopters of AI have produced steady track record to deliver outstanding results. Learn what you need to do as tech leaders to drive this transformation. Leverage on the insights of other experienced AI professionals on how to push through innovative strategies that will help you to meet future challenges.
Clariden Global has the distinct pleasure of inviting you and your colleagues to be a part of our successful AI series. This conference will also highlight the many advances made in AI, robotics, drones, driverless and other transformational solutions using AI, emerging trends in the industry and new technological solutions to keep up with, to stay relevant in your profession in a challenging and exciting operating environment.
Join this high profile gathering to hear what the leading AI leaders of today have to share about the ongoing transformation of the AI ecosystem. See you in at the Summit soon.
Why Join This Conference
15 Key Themes That Are Powerfully Relevant To Your Business:
AI-First Enterprise: How Machine Learning is Used To Transform the Enterprise
Case Study: How Dolby Uses AI To Re-imagine the Future of its Business
BMW Case Study: Putting AI in Driveless Cars
How Deep Learning is Transforming Different Vertical Industries
JPMorgan: Operationalizing Machine Learning
How to Integrate AI into Your Existing Infrastructure
How Government is Using AI Increase Efficiency, Service Delivery and Citizen Engagement
BUPA ANZ: Achieving Transformative Business Outcomes with Artificial Intelligence
GE Case Study: Using AI to Drive Across Its Entire Business
Building the AI Systems of the Future
Solving Business Problems with Deep Learning
CTO and Chief Data Scientist Panel
The Conference at a Glance
DAY 1: Monday 8 May 2019
The AI-First Enterprise: How Advanced Machine Learning will transform the Enterprise
What's next in AI – The Technology and Challenges of Audio AI
What Top Companies are Doing with AI + Industry 4.0 today, what are the investment opportunities, what we can learn from them – Success in the Age of AI
Case Study: AI in Security/Intelligence & Anti-Terror Services – Using AI to Predict the Probability of Crime in Location by Detecting Anomalies and Faces
Case Study:AI + Blockchain in Education
Operationalizing Machine Learning: How to Ensure Value-Driven Deployment
Many Use Cases across the industries & New applications of AI
DAY 2: Tuesday 9 May 2019
Government-Wide AI Strategy: How AI Increase Efficiency, Reduce Operational Costs, Improve Service Delivery and Increase Citizen Engagement
Putting AI in Driveless Cars
Building AI for Industry: Translating AI R&D into Applications & Commercial Us
Building the AI Systems of the Future: Trends in new AI Systems
Why many AIs are better than one: Trusted Human-Swarm Teaming, with future applications
Post-Conference Seminars & Site Tour: 10 May 2019
How To Build Your Company's AI Strategy
How to Train and Execute a Deep Learning Model to Be Able to Re-identify and Extract Attributes from Humans
Visits to corporations, innovation labs and institutions which have successfully rolled out AI & IoT programmes or are test-bedding new AI-IoT technologies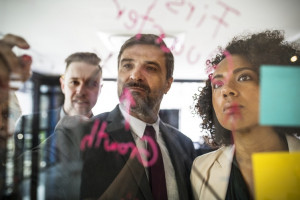 Companies Expected at the Forum
ABB Australia
AgriDigital
AIA Australia
Amazon Web Services
Australia Post
Australian Driverless Vehicle Initiative (ADVI)
Australian Energy Market Commission (AEMC)
Australian Energy Market Operator (AEMO)
Australian Farm Institute
Australian Securities Exchange
Austroads
CSIRO
Deakin University
Energy Australia
Flinders University
Garvan Institute of Medical Research
HCF Australia
Healthdirect Australia
IBM Cognitive Australia
iMOVE CRC
ITS Australia
Juwi Renewable Energy
Microsoft Australia
Ministry of Environment and Energy
National Australian Bank
National Transport Commission
Nokia Australia
Office of Innovation and Science Australia
Omron Corporation
Optus
Powerledger
Potogen Technologies
Qualcomm
R3
South32
Suncorp Group
Telstra
The BPay Group
Transgrid
Uber Australia
University of Sydney
University Technology of Sydney
Vodafone
Westpac